The Hindu expat hasn't missed a single day of Ramadan fast for the last nine years
And in show of solidarity with his Muslim friends, Ranjith Rajari has been serving daily Iftar since 2015, Khaleej Times reported.
"I come here around 4pm daily. I distribute the Iftar meals among these workers and as the Maghrib call for prayer goes off; I end my fast with them. After clearing the garbage, I leave around 7.30pm," Rajari says.
At the camp number 15 of Sharjah's Sajjah Industrial Area, Rajari distributes biryani packets among workers gathered outside a small mosque.
The native of southwest Indian state of Kerala is part of 'Team Iftar' which serves over 20,000 Iftar meals in 49 locations across the UAE.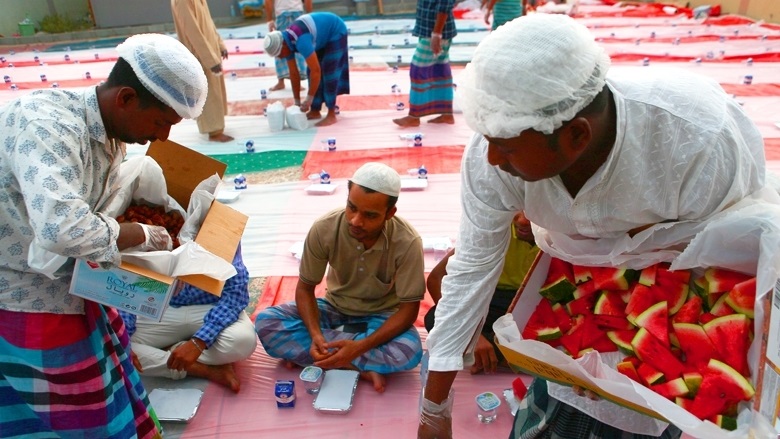 Regarding fasting Ramadan, Rajari says: "I first fasted to understand how my Muslim friends could stay without food and water for so long. It was a very good experience."
The officially reduced working hours during Ramadan across the regions of UAE helps all workers spend enough time with their families. But not for Rajari. "I am here at this labor accommodation on all 30 days of Ramadan. I don't get time to take my family out during the month."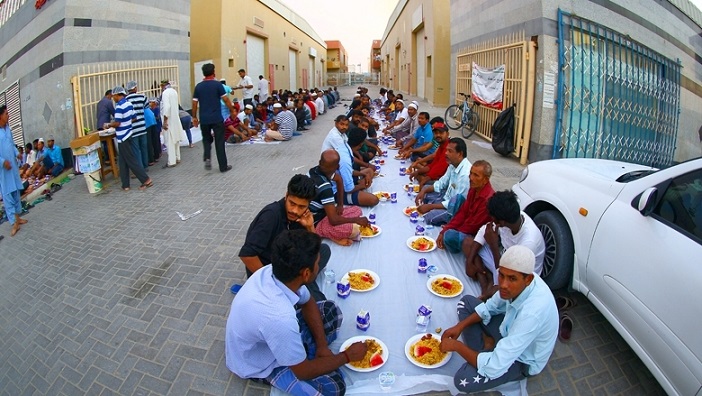 The Malayalee man resides in Al-Nahda with his parents, wife and two kids. "My family understands my passion about this and are very supportive."
When asked what motivates him, Rajari says: "Serving people makes me happy. I can't imagine spending Ramadan in any other manner. I intend to do this forever."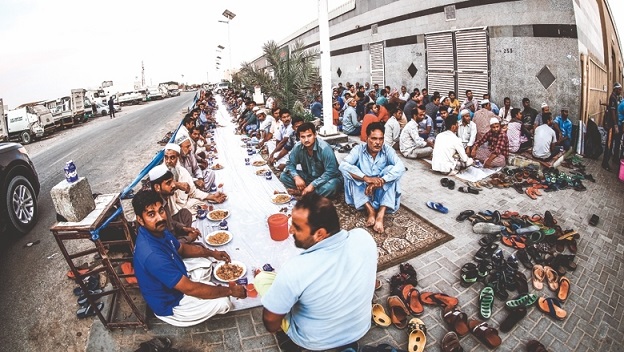 Coexistence

The UAE witnessed significant population increase during the past few years because of major growth in the various economic sectors, which lead to influx of workers from diverse cultural and religious background. The population rose from 4.1 million in 2005 to roughly 9.5 million in 2018.
Out of this, the number of UAE citizens is around 11.5% and the remaining 88.5% made up of Expatriate workers. The largest group of non-UAE nationals are South Asian 59.4% (includes Indians 38.2%, Bangladeshi 9.5%, Pakistani 9.4%, others 2.3%), Egyptian 10.2%, Filipino 6.1%, other 12.8%.
Female citizens and non-citizens account for 28% percent of the Emirati population and the majority falls in the age group of 25 to 54 years old due to the high level of youth male foreign workers.
The population is heavily concentrated to the northeast on the Musandam Peninsula, the three largest Emirates; Abu Dhabi (2.9 million), Dubai (2.7 million) and Sharjah (1.4 million), are home to nearly 75% of the population.
Islam is followed by approximately 76% of the Emirati population making it the largest religion. According to a 2010 report from the United States Department of State, Hindus number as much as 1,405,398 people in the UAE.