An American Muslim has become the first officer of Pakistani origin to assume the charge of a New York local precinct as its commanding officer.
Appointed as the Precinct Commander on July 7, Captain Adeel Rana received congratulations from various American Muslim groups and officers.
? Read Also: Air Force Gets First Female Muslim Chaplain
Expressing his excitement, Cpt Rana said he was feeling proud to be able to lead the best men and women of the great department.
"Together we can make a difference. It is a historical event and great day for America!!!" he said.
Congratulations!
Your service to your city and country is a service to your God/faith. Your dedication to your city and nation is a part of yours to your God/faith.

For God and Country! @NYPDMuslim @AdeelRanaNYC @MohamedAmenNYC pic.twitter.com/guPlstTzUR

— Imam Shamsi Ali (@ShamsiAli2) July 7, 2020
An immense congratulations @AdeelRanaNYC on his assignment as CO of the @NYPD84Pct.

Captain Rana is a trailblazer being the FIRST Muslim-American to lead a #NYPD patrol precinct.

Best wishes for continued success — Welcome to the 8-4! #BackTheBlue pic.twitter.com/0rcB6ZHt3h

— ᴊ. ʙᴀʟᴀɴᴋᴀ (@JBalanka) July 7, 2020
NYPD Chief of Patrol Fausto Pichardo congratulated Rana on the new position.
"Welcome aboard to Captain Adeel Rana as the NYPD's first Pakistani-American Precinct Commander," Pichardo wrote on Twitter.
Councillor Deutsch of the 48th Council District, said: "Congratulations to Captain Adeel Rana on his new appointment as CO of @NYPD84Pct."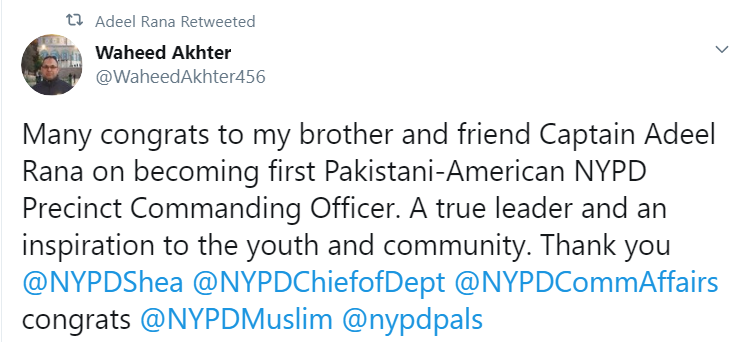 Read Also: Meet First US Air Force JAG Officer to Wear Hijab