Forty minutes from Istanbul, I am starting to feel car sick as our minivan turns off the road, onto a rocky mountain track, in the midst of the Beykoz forest.
In the Ottoman period, this vast woodland, to the north of the Turkish capital, was a favorite hunting place and regional retreat, for the Ottoman Sultans and their court.
How fitting then, that today, a clearing in its midst, is home to the film set of a Turkish costume drama, based on the tribulations of a nomadic tribe who became a founding father of an Empire.
A Long Dead Nomad
'Ertugrul: Resurrection' pronounced 'Air-Tu-Rule' first aired in December 2014 on the Turkish channel TRT1. Now filming its fifth season, the passion of its global fans captured the attention of Netflix which currently offers 179 episodes on its site. This may seem a lot, but in terms of Turkish TV, famous for incredibly long serials, this amounts to just the first two seasons.
The storyline is (very loosely) based on the life of a 13th-century warrior of the Kayi, a branch of the Oghuzs who migrated and fought their way west. The tribe fought and won the region, eventually uniting clans under the flag of Islam. Ertugrul's son Osman Ghazi l was the founder of the Ottoman Empire which blossomed in Sogut, a district of Bilecik province.
When I get my first sight of the now iconic yurt village, my stomach flips and I realize my nausea is actually excitement.
I have won our communities Willy Wonka Golden ticket. Everyone I know is so jealous when I tell them about coming to the set, I feel the need to urge, 'Say MashaAllah!' to avoid a serious dose of Ain.
Ertugrul brings a sense of pride to us. The characters pray for help in hard times, its leaders refuse bribes (imagine!) and as for its love scenes – well you're safe to watch them with the kids and granddad for once. They consist of no more than subtle glances.
Extras in peasant clothing, squat down, sipping black tea from paper cups, nod seriously to me.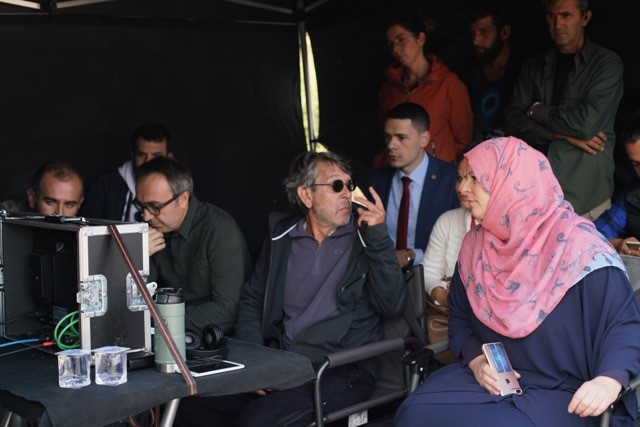 Meeting Cast
Without fanfare, I am suddenly standing before the vast white and blue yurt (nomadic structure) where the Ertugrul family live, hold meetings, love, cry, and plot daring raids against Mongol hordes, Crusaders, and Byzantium troops.
Fires crackle in metal braziers, smoke hangs in the air laden with the evocative smell of incense. Horses trot through the village center, a young woman plucks at a basket of wool. Trying to take it all in I look up to see the Beys.
Bey is a title among Turkish peoples traditionally given to rulers of small tribal groups, members of ruling families, and to important officials. It is still used today.
The tall, brave warriors, I have watched dispatch many a plotting Crusader, are before me, in full black armor. They greet me one by one solemnly and thrillingly, entirely in character:
'Assalamu Alaykum' I put my right hand to my chest and nod solemnly back.
There is a presence behind my right shoulder. Someone has emerged from the yurt headquarters. A voice as deep as a cave, as daunting as a mountain says close to my ear:
'Assalamu Alaykhum, you are welcome.' It's Ertugrul himself. Dear reader, I've had to learn a lot about self-control these past eight years as a Muslimah. But it would be dishonest of me not to admit that at that moment the thought of feigning a faint in order to be caught in the heroic arms of Ertugrul actor Engin Altan Duzyatan did not cross my mind.
He is a picture of Muslim heroism, brave, self-controlled, restrained, hugely charismatic. Besides him stands his 'mother' Hay Hatun, grandmother of Osman I, played by Hülya Darcan.
I give greetings to the Beys, Ertugrul, and Hayme "from the western Ummah, who salute and value your efforts. You are reviving our spirit. The hand of history is on your shoulders."
Hayme Hatun has tears in her eyes. As if in character myself, I finish my small speech, put my forehead to her hands. I turn back to Ertugrul who is looking at me curiously, 'Allah be with you' I say. 'And you' he replies.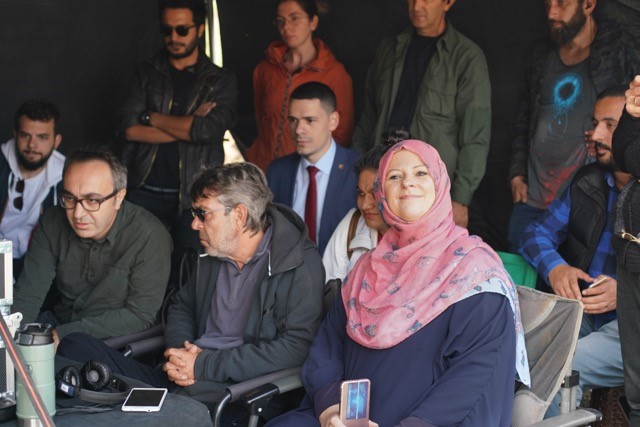 Metin Günay has directed the series since 2014. We lean towards two monitors showing a scene between the Beys and their leader. I ask the director what the series means to him professionally and personally.
"I think about the day of Judgement' he says, chain-smoking, eyes glued to monitors. He pauses and turns to me.
"This is more than a career move, this is for the akhira, the life after death. I am making this to receive prayers, blessings," He says.
Despite photos being taken of my visit to the set, the studio forbids their use whilst filming is ongoing. The costumes, characters, and scenery must remain a closely secret. They permit the use of two photos of my visit, both with the director and behind the scenes.
The actors, dressed not only in the clothes of the past but garbed onscreen in the ethics of our Muslim ancestors, play their parts before us.
I am surrounded by a peaceful atmosphere which I have never encountered in high-level TV or film production before. Here the stories of the past, echo hopes and behaviors into our present.
It is my turn to have tears in my eyes.
Next Time………
Sulaiman Shah and Erdogan, Tassawuf on set and Mongol hordes in the woods.
Aboutislam would like to thank Yunus Emre Institute, Tekden Film, cast, and crew.
Other Journeys by Lauren Booth