Thousands of people gathered in Brussels on Sunday to protest against a ruling by Belgium's Constitutional Court allowing higher education institutions to ban the hijab.
The protesters, around 4000, gathered at the Mont des Arts square to protest under the name of #HijabisFightBack.
The protesters carried signs bearing slogans such as "Take your hands off my headscarf," "My right" and "Enough."
? Read Also: Hijab Stories – 8 Women Speak Out on Hijab
The demonstration is an initiative of the feminist collective Imazi Reine, the collective Belge Comme Vous and the non-profit organization La 5e vague, The Brussels Times reported.
"At first we did not necessarily want to demonstrate," Fatima Zohra Ait El Maâti of Imazi Reine told Bruzz.
"We are very aware of the coronavirus crisis. That is why we stayed at home for months. But in September, people had to go to school, and this decision created the need to react quickly," she added.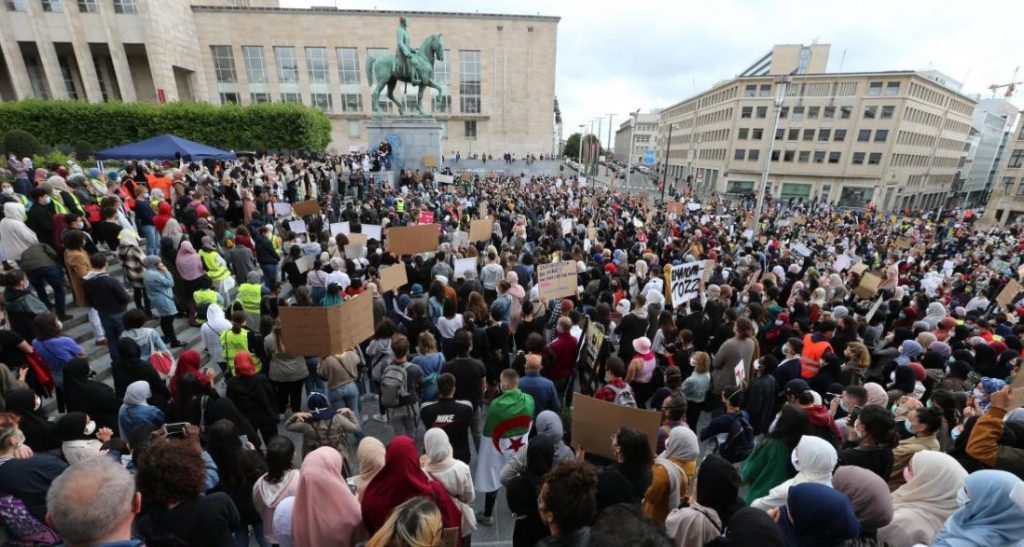 Islam sees hijab as an obligatory code of dress, not just a religious symbol displaying one's affiliations.
Hijab has been in the eye of storm since France banned the headscarf in public places in 2004.
Since then, several European countries have followed suit.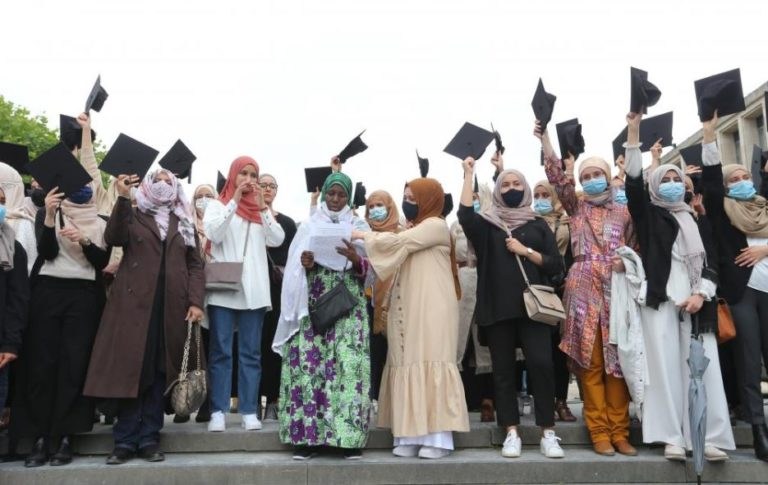 Fighting Back
The Constitutional Court ruled in early June that a ban on headscarves expressing religious or political opinions would not be contrary to the constitution or the European Convention on Human Rights (ECHR).
The case was referred to the Constitutional Court by a Brussels court after Muslim students sued the Francisco Ferrer Brussels University College about a ban on all religious symbols.
The ruling sparked a backlash on social media among young people and students, with rights organizations also decrying the move as a violation of a basic human right.
Soon there will be a protest between 3 and 5 pm from #HijabisFightBack at "Mont Des Arts" in Brussels. "My veil, my choice", "studying is my right, wearing a headscarf too." pic.twitter.com/3mFyNyn3th

— Yassin Akouh (@Yassin_Akouh) July 5, 2020
Since the decision, 12 Belgian universities and colleges have assured students they woul not impose such a ban, stressing that religious freedom is protected in their classrooms, according to The Brussels Times.
"A headscarf ban means a serious impact on the right to education and the right to self-determination. Hundreds of students may have to give up their studies," said Fatima Zohra Ait El Maâti.
"Making decisions about what I can wear, cannot happen without me sitting at the table," she added.
"That did not happen at the Constitutional Court. Now we want to speak in our own name," she added.