Everyone knows how to be a 'serious' Muslim, right? Just grow a beard, wear loose clothes, scatter Arab words into your every day speech, never grin or (God forbid) laugh loudly in public and you're seen as pious.
What's been forgotten in this race to out-pious one another, is this: Islam is meant to make us happier. Allah intends ease for us, he tells us this in the Qur'an. Life is meant to be good, better and best as a Muslim.
And the best of the best of our happy and easy times is `Eid, right?
But is it allowed to fun for you and I in the ways that actually make us happy?
Yet, I have had `Eid anxiety ever since my kids and I accepted Islam back in 2010. The heritage Muslims we met around that time roundly condemned in turn; my loud sense of humor, non-Asian music, "western' movies and of course women singing, as forms of celebration.
Even our heritage food was frowned upon for being 'bland on a celebration day – not good!' We were inadvertently led to feel that EVERY type of fun we enjoyed was frowned upon, perhaps even disliked by Allah ta'ala.
Fun times!
On the subject of fun, Aisha reported that our beloved Habib Prophet Muhammad (Peace Be Upon Him) came to her home on `Eid where two girls were beside me singing songs. The Prophet SAWS laid down, content to listen, whilst turning his face to the other side. Abu Bakr, her father came in and told her off, saying, "Musical instruments of Satan near the Prophet?" What did our Prophet SAWS do? He turned his face toward him and he said, "Leave them alone." On the day of `Eid, some Abyssinians were playing with shields and spears. When Aysha wanted to watch SAWS stayed and watched them with her, "Carry on, O tribe of Arfidah" he said.
Two things triggered my anxiety this time round. One, my daughter has become vegan for ethical reasons. This meant seeking meat and dairy free exciting food and two, THE question. This year, the inquiry of doom came after Taraweeh prayers at the British Muslim Heritage Centre, Manchester. I was handing out flyers for my one-woman show playing Edinburgh Festival Fringe this August. A sister accepted a flyer and then asked the question which sent me into a temporary, emotional, spiral.
'All ready for `Eid then?'
No, I wasn't. There was nothing to get 'ready' really. My `Eid preparations have become, well, 'meh.'
Now, though, openings are cropping up for convert Muslims to experience the blessings of `Eid with others.
And it's vital we do get to grips with caring for our converts. Earlier this year Pew Research Centre (USA) released a new analysis of the 2014 Religious Landscape Study.
This showed that whilst a substantial share of adults raised in all mainstream religions no longer identify as members of the faith. However, unlike some other faiths, Islam gains about as many converts as it loses in those who leave having been born to 'Muslim' households. Which means that in the West at least, with too many of our second and third generation Muslim young choosing to leave Islam it is converts who are right now growing the faith. Look at this in line with the ayah:
(And if you turn away, He will exchange you for some other people and they will not be your likes.) and, Do you not see that Allah has created the heavens and the earth with truth If He will, He can remove you and bring (in your place) a new creation! And for Allah that is not hard or difficult.) (Quran 14: 19/20)
Alone on `Eid Day
In Manchester, the UK, empathy to the sadness of hundreds, if not thousands, who feel alone, is noticeably growing.
Dr. Shameela is renowned for her aid work in Syria and most recently, Iraq. She travels along with charities she supports to ensure aid is delivered to her satisfaction. She sent a text through WhatsApp.
'The night before `Eid is traditionally spent getting ready for celebrations next day with the family and friends…I'd like to invite all reverts and sisters spending (this) night alone to have their henna done (complimentary) and spend time with family and me!'
Her offer followed the young Imam at the BMHC dedicating the third Jummah khutbah, entirely to 'taking care of those who may have sacrificed their place in mainstream society, their families, even their marriage and homes to accept Islam.' The imam presented the community with relevant, practical, steps to include those of the same faith but a different background in their celebrations. For reasons why this is essential, beyond the realm of kindness and good manners, go no further than the example of the Ansar to the Muhajirun.
In another part of the city, Eccles, a mosque group issued a list of families opening their doors on `Eid day to any who wanted to share `Eid breakfast with them.
This is a great idea, it gives reverts potential to share a family-style morning without the weight of being overly made a fuss of (it's a British thing) or worse, patronized.
This time, the night before `Eid, my daughter and I were not alone. A family invited us to their lovely, four-story, home. After Maghrib, Sister Yusra and her daughter Ferida heaved several boxes into their living room.
My daughter and I were keen to see what Ferida would be getting. 'Go on then..' said Yusra, nodding towards the boxes. Ferida didn't move. There was a pause. Then.
'Go on, open them up!'
'Sorry?' said my daughter catching on.
'Open it then!' Laughed Yusra.
'Which one' she replied.
'All of them'.
The boxes were kitchen mixers, a starter kit for university life, helping my daughter's veganism.
And her baking.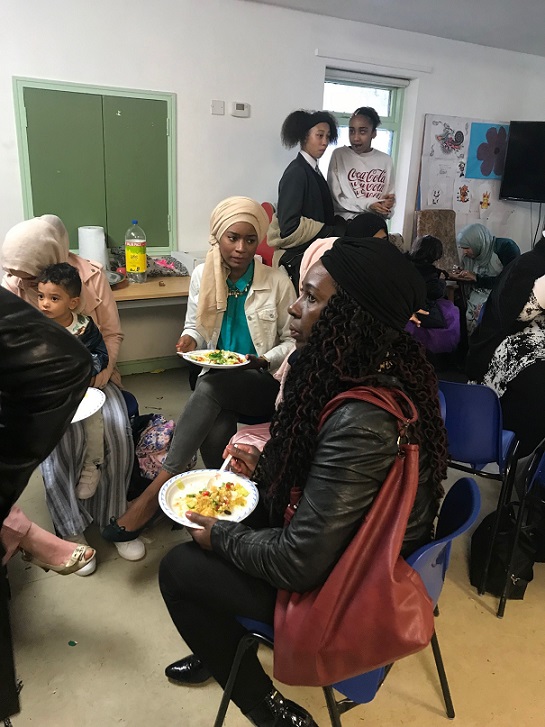 For parents of convert kids, we have to tackle the pull of our non-Muslim families Christmas sparkle year on year. All we want is for our children to feel blessed and loved on the Muslim high holidays too.
`Eid itself, I went to an 'open house' breakfasts in Eccles while my daughter had her first A-Level exam (poor thing, duas please!). French sister Saffiyeh and her English husband Leman provided a very European opening to the festivities with coffee and croissants on offer.
I stopped for a while at a small gathering in Manley Park youth group's hall. The fact almost every convert I knew from the area and their children were in attendance showed it is still the only one to actually serve this sector on `Eid day itself.
At night, I sat on the sofa next to a fellow English sister, who is struggling with multiple disabilities and would otherwise have spent the whole day alone from start to finish. We feasted on sushi AND Chinese takeaway while watching Mama Mia on Netflix. Simple things but with another person, more fun.
I will always remember the smile on my daughters face as I watched her open those gifts.
They showed her that others in our community really do feel she is a part of their family too,
And that's surely the point. Islam is a communal faith offering group care and protection for all inside its beautiful shelter, our holy holidays are part of that unity.
Yusra noticed I was sitting a little away from the action.
'Are you crying Lauren?' she asked.