It's the beginning of Ramadan!
The first week of Ramadan is usually the hardest as our bodies adjust to the drastic change. It's very important at this stage to keep our food healthy.
Having proper meals, even at suhoor, with fruits, veggies, slow release carbs, and protein will keep our energy level up as much as possible.
Here is a collection of recipes that will help you decide what to cook for Iftar during the first week. We'll present a collection of Ramadan recipes every weekend throughout the holy month.
Don't miss!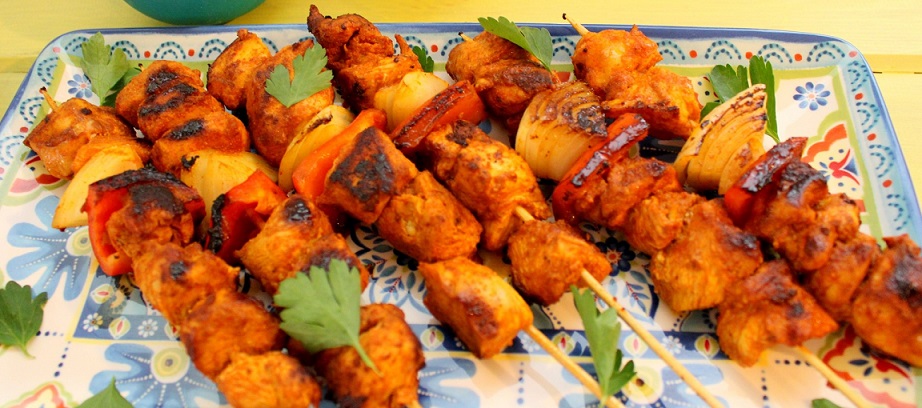 Chicken Tawook
Ingredients
2 pounds bonless, skinless chicken breast, cubed
1 tablespoon Paprika
1/2 tablespoon ground mustard
1 teaspoon garlic powder
1 teaspoon ground cumin
1 teaspoon salt
1/3 cup fresh lemon juice
2 tablespoons Olive Oil
1/4 cup Yogurt
1 large onion, cut into sections
1 bell pepper, cut into sections
Directions
1-In large bowl combine yogurt, lemon juice, olive oil, ground mustard, paprika, cumin, salt, garlic powder.
2-Add in the cubed chicken breasts. Marinate for a minimum of 1 hour and up to 8 hours.
3-Skewer the chicken cubes with a few pieces of the onion and bell pepper.
4-Grill under cooked through.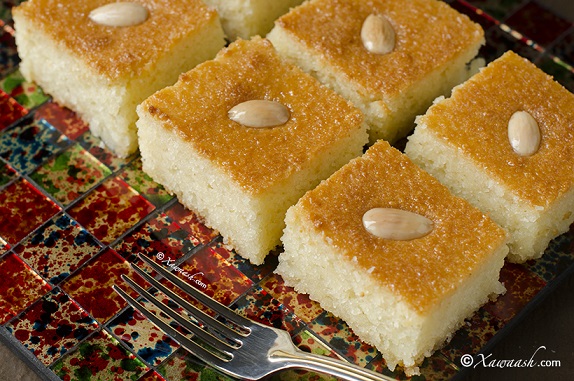 Basbousa with Coconuts
Ingredients
2 cups coarse semolina
1 cup coconut
1 Stick (1⁄2 cup) unsweetened butter, melted
1⁄3 cup sugar
1 teaspoon baking soda
1 cup plain yogurt (or Sour Cream)
1⁄3 cup whole Roasted or blanched almonds (to garnish) or ⅓ pistachios or cashews
For The Syrup
2 cups sugar
1½ cup water
1 tablespoon rosewater (not rose extract, OPTIONAL)
1 teaspoons lemon juice
Directions
1-Pre-heat oven to 400 degrees F. Grease an 9×9 or 8×8 square pan or a 9" round pie dish with butter or olive oil and set aside.
2-Mix the semolina, coconut, sugar, baking soda, and the butter in a large bowl. Use your hands to incorporate the butter with the other ingredients until mixed well. Add the yogurt and continue mixing with your hands until fully combined.The mixture should be fairly thick and easy to press with hands (not thin like cake or brownie batter)
3-press the mix down onto square baking dish or round pie pan.The cake mix should be about 1 inch thick.Cut a diamond or square design in the cake with a butter knife. Place an almond or any other type of nut you have on hand onto each pre-cut square.
4-Bake at 400 degrees for 30 min to 40 mins until it's a bronze brown color. If no color forms on the top turn on broiler for 1-2 minutes until the top is golden/bronze. Cut the Cake again along the pre-cut lines and pour cold syrup on top while its hot so it can absorb all through.
FOR THE SYRUP:
1- While the cake is baking, Mix all the ingredients for the syrup and place in saucepan on high until it boils.
2- Boil for 10 minutes or until the syrup coats the back of a spoon.

Sweet and Sour Meatballs
Ingredients
1 pound ground beef
1 egg
1 onion, chopped1 cup dry bread crumbs
salt and pepper to taste
1 cup water
1/2 cup cider vinegar
Direction
1- In a large bowl, combine beef, egg, onion, bread crumbs, salt and pepper. Roll into meatballs.
2- In a large skillet over medium heat, saute the meatballs until browned on all sides.
3- In a separate medium bowl, mix together the water, vinegar, ketchup, cornstarch, sugar and soy sauce. Pour over 4-the meatballs, and allow sauce to thicken. Continue to heat until the sauce just starts to bubble.
5- Serve with rice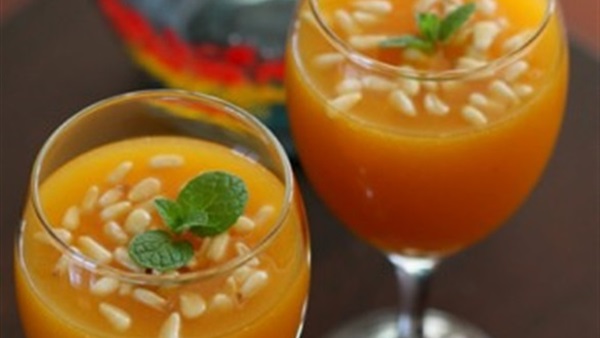 Qamar El Din Pudding
Ingredients
1 Large package of Amardeen (about 500g or 1 lb)
4 cups of water
1/2 cup of sugar or several tablespoons of syrup (atr) (or more, to taste)
1/2 cup of cornstarch
1 Tablespoon of orange blossom water, 1 Tablespoon of rose water (or more, to taste)
To garnish:
1/2 cup of almonds, pine nuts, pistachios, or any other nut that you like to use
Directions:
1-The night before: Cut the amardeen in large pieces and cover them with water. Leave it overnight and even a day longer in the fridge.
2-The next day, puree this mixture in a blender till it is smooth. If you wish, strain it by running it through a sieve into the pot, but I personally don't find this step necessary. However, it is a good idea to keep track of how many cups you end up with, to calculate how much thickening agent you are going to need. You should have about 6 cups.
3-In a large pot, pour the apricot puree, add the sugar and stir to dissolve.
4-Dissolve the cornstarch in some water and add to the apricot mixture once it starts steaming. Bring to a boil, stirring constantly.
5-Keep stirring for about 3 minutes and then pour the mixture, this time through a sieve, into a container with a spout.
6-Divide the pudding into small goblets or one large platter.
7-Decorate the surface of the pudding after it has set with a medley of nuts.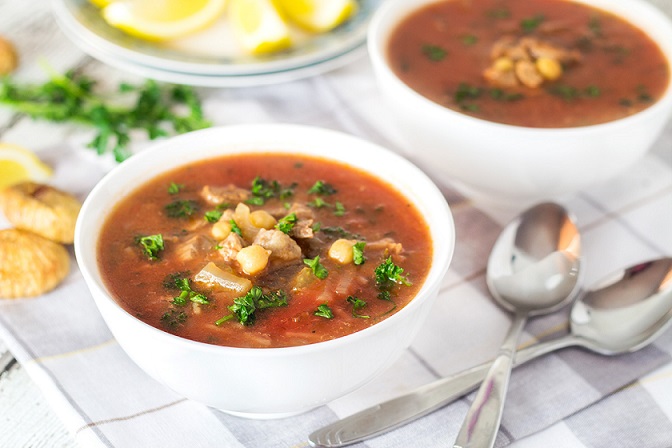 Harira (Traditional Ramadan Soup)
Ingredients
1 each large bunch fresh coriander, and, parsley
8 cup chicken or vegetable stock
1 cup green or brown lentils
1 can (19 oz) chickpeas, drained, and, rinsed
2 can (each 19 oz) tomato, drained, and, chopped
2 onion, chopped
tsp cinnamon
1 tsp each ground cumin, ground ginger, turmeric, and, pepper
¼ cup lemon juice
2 Tbsp extra virgin olive oil

Strawberry Watermelon Smoothie
Ingredients
9 cups watermelon pieces, seedless
12 ounces of frozen strawberries
¼ cup freshly squeezed lemon juice
optional sweetener if your fruit isn't perfectly ripe
Directions
1-Place the watermelon pieces into a blender and blend until smooth.
2-Add the strawberries and lemon juice and blend again until smooth.
3-Serve right away or refrigerate for up to 1 day.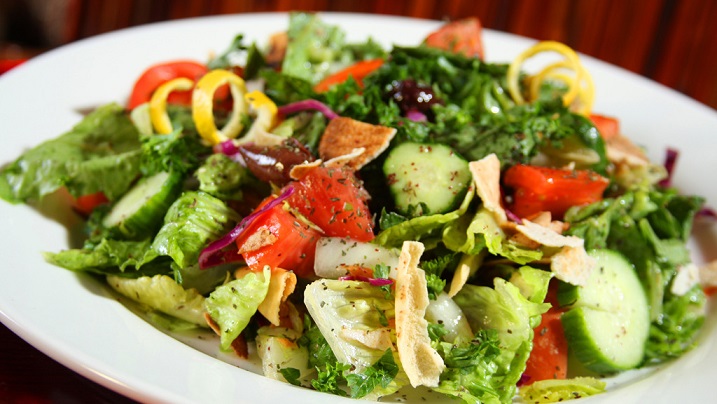 Fattoush Salad
Ingredients
2 loaves pita bread
Olive oil
1/2 tsp sumac, more for later
Salt and pepper
1 heart of Romaine lettuce, chopped
1 English cucumber, chopped
5 Roma tomatoes, chopped
5 green onions (both white and green parts), chopped
5 radishes, stems removed, thinly sliced
1 cup chopped fresh parsley leaves, stems removed
lime-vinaigrette
1 1/2 lime, juice of
1/3 cup olive oil
Salt and pepper
1 tsp ground sumac
1/2 tsp ground cinnamon
scant 1/4 tsp ground allspice
Directions
1-Toast the pita bread in your toaster oven until it is crisp but not browned. Heat 3 tbsp of olive oil in a large pan. Break the pita bread into pieces, and place in the heated oil. Fry briefly until browned, tossing frequently. Add salt, pepper and 1/2 tsp of sumac. Remove the pita chips from the heat and place on paper towels to drain.
2-In a large mixing bowl, combine the chopped lettuce, cucumber, tomatoes, green onions with the sliced radish and parsley.
3-To make the lime vinaigrette, whisk together the lime juice, olive oil and spices in a small bowl.
4-Dress the salad with the vinaigrette and toss lightly. Finally, add the pita chips, and more sumac if you like, and toss one more time. Transfer to small serving bowls or plates. Enjoy!