This is a collection of healthy recipes focusing on salads, vegetables and types of food that will keep you hydrated during the long days of fast.
The recipes are from PLANT-BASED DIET, a website that provides vegetarian recipes and encourages healthy eating.
A plant-based diet is a diet consisting mostly or entirely of foods derived from plants, including vegetables, grains, nuts, seeds, legumes and fruits, and with few or no animal products.
We'll present a collection of Ramadan recipes every week throughout the holy month.
Stay tuned!
Zucchini Soup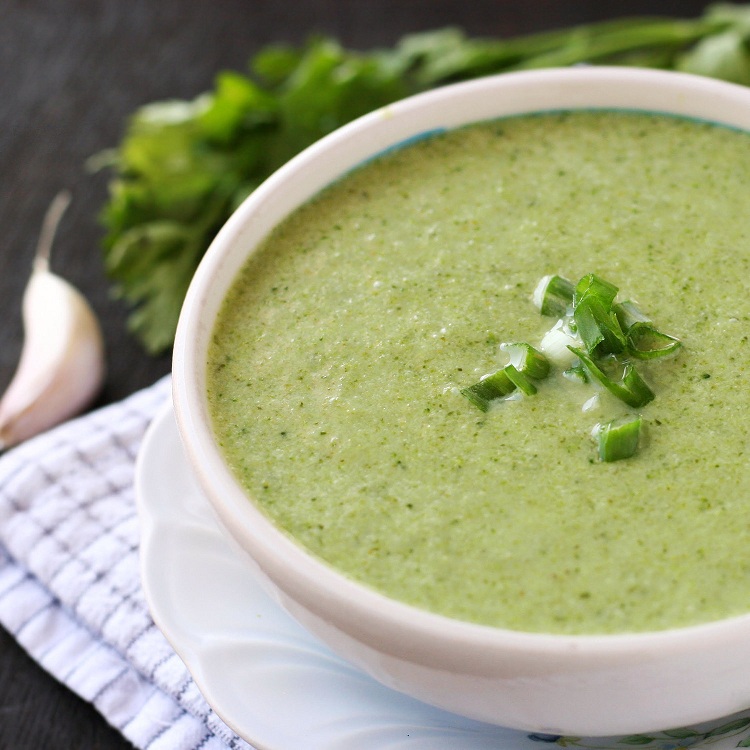 Ingredients
•500 g zucchini
•1 medium onion
•1 leek
•1 clove garlic
•2 tbsp olive oil
•3 cups broth or water
•Salt to taste
•Optional: fresh coriander leaves, ½ cup pumpkin or almond milk
Method
1-Fry the garlic and onion in olive oil for about 2 minutes until the onions are translucent.
2-Add the zucchini and leek, and stir for about 5 minutes.
3-Add the broth (or water) and milk, bring to a boil, then turn on low heat and simmer for about 15 minutes.
4-Transfer the soup to a blender and puree until smooth, then return to the pot and heat for a few minutes, until desired consistency is reached.
---
White Beans in Tomato Sauce

Ingredients
•Fresh Tomatoes – 200 g
•Ground Coriander – 1 Tbsp
•Lemon Juice – 1 Tbsp
•Tomato paste – 1 Tbsp
•White Beans – 1 kg
•Onion – 1 minced
•Vegetable Oil – 1 Tbsp
•Spices: Black Pepper, Cumin
•Salt (optional)
Method
1-Wash the beans and bring them to boil over medium heat.
2-Discard water from first boil. Then cover beans with 4 cups of water and bring to boil again.
3-Leave over medium heat until it's soft and well cooked. Approximately 45 minutes.
4-Drain the water and leave beans on the side to cool.
5-Slice tomatoes into small cubes and blend them until they're turn to juice.
7-Saute the minced onion in 1 tbsp of vegetable oil until golden.
8-Add tomato juice, coriander, black pepper, cumin and stir well.
9-Cover the the saucepan and leave tomato mixture over low heat for 10 minutes.
10-Add 1 tbsp of tomato paste and lemon juice, then stir to boil.
11-Bring back the beans to the pan and let it cook in the tomato sauce for five/ten minutes over low heat.
12-Serve with white rice and green salad or vegetable soup.
---
Healthy Nut Salad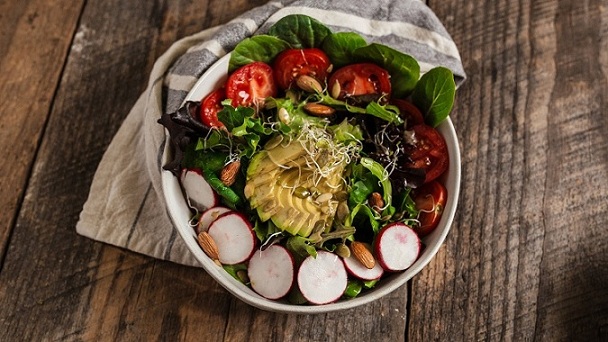 Ingredients
•2 Tomatoes chopped
•2 Cucumbers chopped
•4 handfuls of chopped Lettuce, baby spinach or a mix of available greens
•1 handful Cilantro chopped
•1 Carrot chopped
•1 Red Onion chopped
•1 radish chopped
•7 Almonds whole or chopped
•1/2 Avocado (optional)
Dressing
1 bunch cilantro roughly chopped.
1 lime juiced
1/2 avocado (optional for a creamy texture)
1 garlic clove
2 tbsp oil olive
1/4 tsp cumin
salt to taste (optional)
red pepper flakes (optional)
Instructions
In a large bowl, toss lettuce, tomatoes, cucumbers, carrots, onions, radish together. Pour dressing over the fruit and lettuce and toss again to combine. Top salad with spices and roasted almonds. Serve immediately.
Instructions for Dressing
1-Combine the cilantro bunch, lime juice, avocado, garlic, oil and cumin to a blender or food processor. Pulse 3-4 times (or until ingredients are combined).
2-Add salt and red pepper flakes to taste. If you want a thinner consistency, add water as needed.
---
Rice Pudding – Rozz bi Laban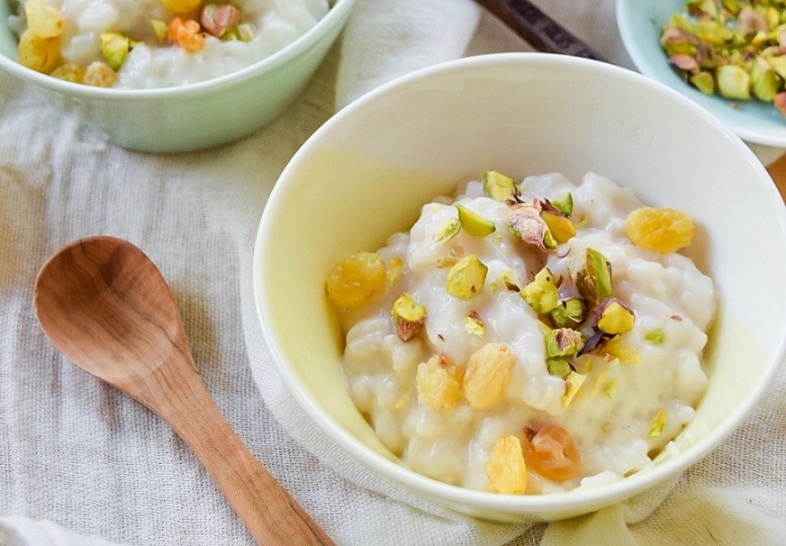 Ingredients
•1/2 cup short grain rice
•4 cups almond milk
•2 -3 pods of cardamom
•1 small cinnamon stick
•1/4 tsp ground ginger
•pinch of sea salt
•2 tbs preferred sweetener, you may want less or more, depending on the type of sweetener you use (rice, maple, agave syrup or honey)
•1/4 cup golden raisins (soaked overnight in cold water)
•1/4 toasted pistachios (Optional)
Method
1-Pour a cup of almond milk into a saucepan, add spices, bring it to a boil.
2-Rinse the rice under running water and admit to the saucepan. Once it starts boiling reduce heat, add a pinch of sea salt.
3-Keep adding milk one cup at a time until rice is cooked through and has creamy consistency. You can remove cardamom and cinnamon stick at any time during cooking if you like milder taste.
4-Add half of the syrup and raisins. Divide into bowls, sprinkle with crushed pistachios (or any other available nuts) and drizzle the rest of the syrup over it.
---
Foul Mudammas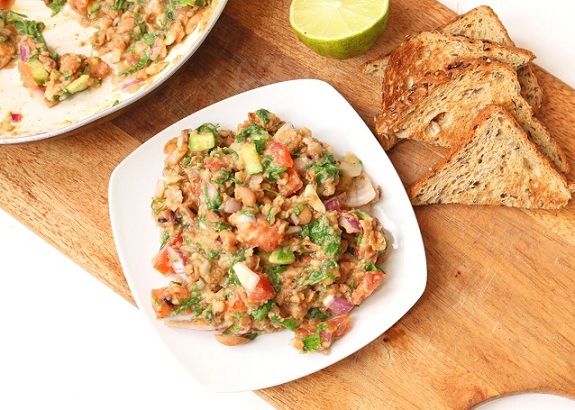 Ingredients
•1 can of Fava Beans
•½ – ¾ cups of water
•1 medium tomato, diced
•½ a medium red onion, finely chopped
•1 clove garlic, minced
•1 small cucumber, diced
•2-3 tbsp fresh parsley, finely chopped
•½ tbsp cumin powder
•1 tbsp extra virgin olive oil
•1 tbsp tahini
•1 tbsp of lime juice
•Sea salt and black pepper to taste
Instructions
1-Start by draining and rinsing your canned beans, before adding to a medium sized pan on low heat along with the water.
2-Using a fork or potato masher, mash the roughly until there are very few whole beans left. Stir in more water as needed along with the garlic, cumin, salt and pepper. Allow the mixture to heat thoroughly for a few minutes before turning off the heat.
3-Stir in your chopped veggies, parsley, lime juice and olive oil. Taste and adjust seasonings as needed.
4-Finish with a tablespoon of tahini on top and serve with your bread of choice.
Whatever you do, don't skimp on the cumin and lime juice – oh and the onions. Foul just isn't foul to me if there are no onions.